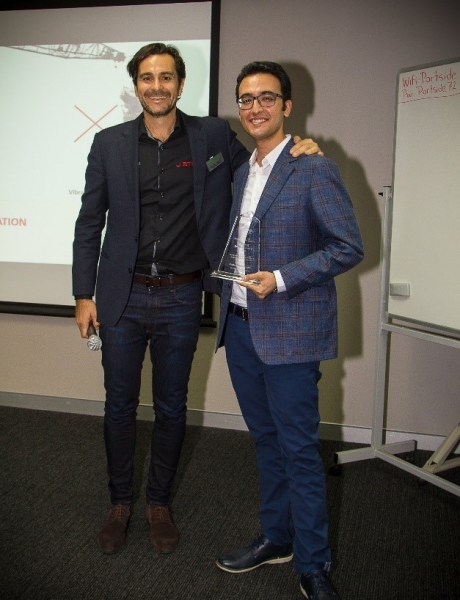 Congratulations to CIES PhD candidate in geotechnical engineering Mohammad Khoshini for winning the 2019 Australian Geomechanics Society (AGS) NSW Young Researchers Award.
Each year the Sydney and Newcastle Chapters of the AGS offer this prestigious AGS NSW Research Award for research in Geotechnical
Engineering or Engineering Geology.  The award aims to provide a forum for NSW enrolled research students to showcase their research to the wider geotechnical community. The Prize includes $2,000 and the opportunity to publish in the AGS Journal.
Selection criteria for the Award included technical content, originality of content, industry relevance and clarity of written and verbal communication. Mohammad Khoshini's submission shone on all counts.
Mohammad's research topic was "Experimental investigation and constitutive modelling of weak rocks subject to mechanical and moisture degradation". 
The work is part of an ARC funded Linkage Project aimed at advancing experimental, theoretical and computational bases for the mechanics of weak rocks. The industry partners of the project are Roads and Maritime Services (RMS), and Pells, Sullivan & Meynink (PSM) Consulting.  
"By incorporating our findings on the behaviour of weak rocks," Mohammad says, "confidence in design methods will be increased to the point that costly over-designs can be avoided.
Billions of dollars are expended each year across Australia building infrastructure. High rates of infrastructure spending are expected to continue to meet the needs of Australia's growing population, which is expected to double by 2060.
Even a conservatively estimated 5% increase in efficiency arising from contributions of this project and improved safety dealing with marginal materials will save infrastructure owners, government and private, tens of millions of dollars each year."
Mohammad wished to especially thank his supervisors at CIES, Professor Nasser Khalili and Dr Arman Khoshghalb for their generous and insightful support during the course of his research.
Mohammad will be submitting a full paper about his exciting research for the AGS quarterly journal Australian Geomechanics.