Research capacity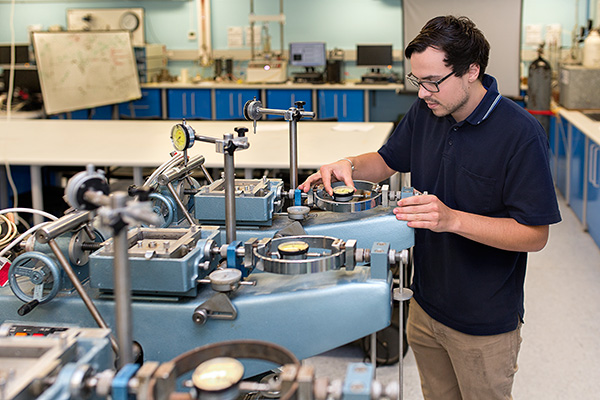 CIES has a large variety of equipment to undertake their research and investigations.Our postgraduate students and researchers can immerse themselves in their research, surrounded by supportive peers and passionate academics and with access to fantastic UNSW facilities.
At the Kensington Campus:
Geotechnical Engineering Laboratories
The Geotechnical Engineering Laboratories within the School contain a diverse range of conventional soil, rock and asphalt testing equipment, along with specialist equipment used primarily to support the School's research. Notable inclusions are modified triaxial cells, pressure plates and an oedometer for testing unsaturated soils at normal and elevated temperatures, rotating cylinder and a specialist pin-hole apparatus for testing erosion of soils, ring shear apparatus, a large shear box and high pressure triaxial cells for testing gravel, rock and sands undergoing particle crushing, as well as an asphalt testing laboratory. Recent additions are the calibration chamber for conducting cone penetration tests in unsaturated soils and the design and construction of a Lateral Earth Pressure testing rig to assist with research on unsaturated soil‑retaining wall interaction; as well as a high performance thermal imaging camera to research progressive development of instability and failure in soil and rock samples.
At the Randwick Sub-Campus:
The Randwick Heavy Structures Laboratory
The Randwick Heavy Structures Laboratory at UNSW King St campus, and the Materials Research Laboratory and Geotechnical Engineering Laboratories, collectively known as the Infrastructure Laboratories, support the research of the School's Centre for Infrastructure Engineering and Safety (CIES).
Infrastructure Laboratories
The structures and materials laboratories support the research of academic staff, and postgraduate and undergraduate students involved in experimental research on various aspects of Structural Engineering. The laboratories are equipped with state-of-the-art servo-controlled hydraulic actuators and universal testing machines. The laboratories maintain a capacity for high load testing, ranging from 10 kN to 5000 kN. Strength testing is often combined with X-Ray measuring of laboratory specimens under load, pioneered by CIES researchers, enabling improved understanding at the materials level and for the development of refined, mechanically based, structural models.