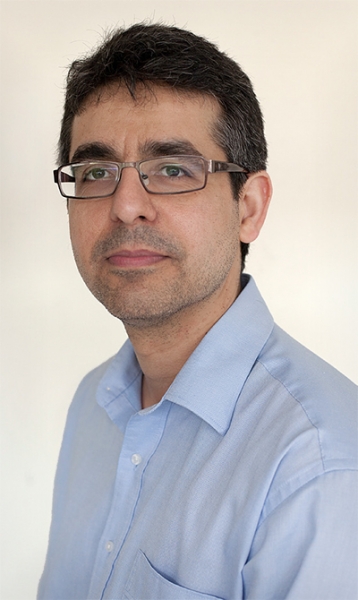 See any city building site and see also parked cement trucks churning, taking up space, making noise, slowing traffic, increasing frustration. Now imagine a building site where customised, lightweight materials are delivered and easily stored, ready to use. Off-site modular manufacture is regarded by some experts as the future of construction and it is materials like cross-laminated timber (CLT) and steel-timber composites (STC) that are making that future possible.
First, we need to plant the trees, if we wish to have a timber industry that is producing cost efficient and sustainable product.
A/Prof Hamid Vali Pour
Over the last few years CVEN Associate Professor Hamid Vali Pour has been investigating the possibilities of engineered STC wood products. "Transforming wood into an engineered wood product (EWP) reduces the dimensional instability of natural wood. EWP is less vulnerable to environmental conditions and changes like temperature and moisture. It moves less and experiences less shrinkage. Through engineering processes, we can remove the traditional defects of wood, making it more homogenous and predictable."
In 2016 Hamid was awarded one of the highly competitive Australian Research Council Discovery Grants, for nearly half a million dollars, to lead Australian research into alternative construction materials. With Professor Mark Bradford, Hamid works within the Centre for Infrastructure Engineering and Safety (CIES) to help refine these construction innovations that can build smart and sustainable cities of the future.
Use of EWP has been growing in Europe since its inception in the early 1990s. The industry has also found a healthy home in New Zealand. But the Australian timber industry is very small and is scattered over the continent, increasing transport cost and our carbon footprint. So the growth rate of timber based construction here has been small and slow.
Hamid Vali Pour believes that what is needed now is a vision and a plan for the timber industry in Australia.
Currently we import most of our EWP and even though the price is dropping significantly it is still too expensive to be attractive on a wide scale. We also need an expanding and skilled workforce."
Currently, buildings consist of reinforced concrete or steel-concrete composites, cast in situ. Cement is poured into formwork and propping is then required for at least a week. This is a wait of at least 10 days between storeys. Building with steel-timber composites means there is no waiting and upward construction can be seamlessly ongoing.
Alongside no wait is less weight. STC density is only 20% of concrete density. This reduces cranage and injury risk. STC increases efficiency of moving, lifting and placing panels. Hybrid construction becomes realistic: building atop older structures diminishing the social disruption of demolition, reducing waste and increasing construction adaptability.
Hamid knows this is where CVEN can be an industry leader in research and teaching. While there is much expertise in steel and concrete technologies in the Go8 group of Australia's leading universities, there are less than 5 timber construction researchers. But the School's recently introduced undergraduate unit CVEN 4309 Sustainable Timber Engineering is an indicator of coming change. The course is attracting large cohorts of enthusiastic students as well as interest and input from industry – all evidence of a coming regeneration of timber based engineering