CIES welcomes Professor Xiao-Lin (Joshua) Zhao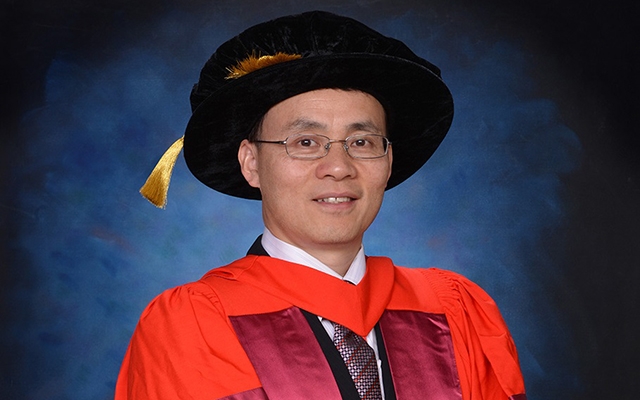 We are delighted to welcome Professor Xiao-Lin (Joshua) Zhao to the CIES community.
Professor Xiao-Lin (Joshua) Zhao has very recently taken up an appointment as the new Associate Dean (International) for UNSW Engineering.  
Professor Zhao has a very impressive academic background.
He began at Shanghai Jiao Tong University where he commenced study at just 16 years of age. Graduating in 1984, with a Bachelor of Mechanical Engineering, he went on to study his Masters degree in the same field. He graduated in 1987 and came to Australia in 1988 to study at the University of Sydney, this time in the field of Civil Engineering, receiving his PhD in 1993. He completed an MBA from the AGSM in 2007, making him an alumnus of UNSW. He also received a Doctor of Engineering (higher doctorate) from the University of Sydney in 2012.
 
In 2001 Professor Zhao was appointed Chair of Structural Engineering at Monash University.
Zhao has received several prestigious fellowships, such as the von Humboldt Fellowship of Germany, JSPS (Japan Society for Promotion of Science) Invitation Fellowship of Japan, Distinguished Visiting Fellowship Award from the Royal Academy of Engineering, UK, Visiting Professorship Award from Swiss National Science Foundation, National "1000-Talent" Chair Professorship and Chang Jiang Professorship of China.
He has received 25 grants from the Australian Research Council and served on the ERA (Excellence in Research for Australia) Research Evaluation Committee for Engineering and Environmental Sciences Cluster in 2015 and 2018. He has also supervised 40 PhD students to completion.
More recently, Professor Zhao was Head of the Department of Civil Engineering at Monash University for four years after being Deputy Head and Director of Research in the Department for seven years. Professor Zhao has extensive experience working in international environments leading the Department in several major international initiatives such as the Monash-Sichuan University alliance, Monash-IIT-B academy, Monash-Warwick alliance and Monash-Southeast University Alliance.
We look forward to many opportunities for Professor Zhao to share his extensive knowledge and experience with us.